Factors to Consider When Choosing a College or University
You have probably heard it over and over again: choosing a college is one of the most important decisions you will make in your life. And it's true. Where you attend college will have a lasting impact on your personal and professional life.
But the truth is, many students select a college based on emotion or a very limited set of criteria-sometimes just a gut feeling. While this won't preclude you from academic success, such an important decision should probably undergo a higher level of scrutiny.
If you're shopping around for colleges, you're going to want to consider a broad range of factors, such as location, size, cost, academic quality, campus safety, choice of majors, as well as other factors that are important to you personally.
Below are some important factors to consider when choosing a college. These factors start general and get more specific. As you narrow down your list of schools, you're going to want to ask more detailed questions and dig deeper to find out if that school will be a good fit for you.
How to Compare Colleges and Narrow Your List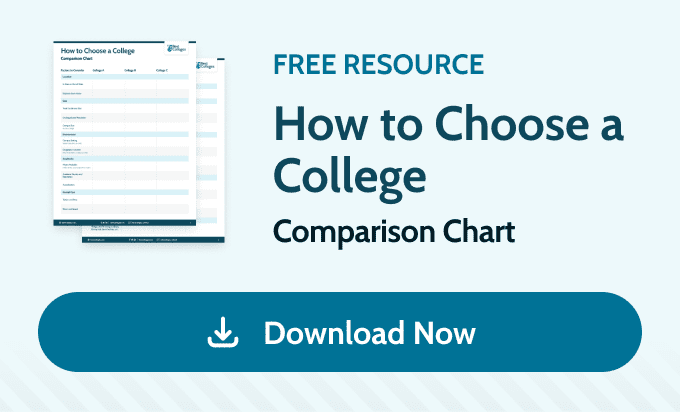 Step 1: Make a College List
You'll want to consider a variety of experiences and outcomes before making a final decision. Ideally, this list should include 10-15 colleges, all of which should offer majors that align with your interests and professional goals.
Step 2: Rank Your Wants and Needs
Knowing what you want and need from the college experience can help whittle down your initial list of schools. For instance, you may want a Big 10 experience with a large student body and plenty of campus activities. Alternatively, a more intimate campus with a liberal arts background may better fit your needs.
Step 3: Visit College Campuses
The internet remains an incredible resource for researching colleges and universities, learning about degree programs, and getting to know faculty and staff. Still, looking at a school's website does not provide the same insight as visiting the campus in person.
By exploring college campuses, you and your family can get a better feel for the institution's culture, ask questions, eat in the cafeteria, and browse on-campus housing. See whether you can readily picture yourself attending.
Step 4: Compare Financial Aid Offers
After applying to the colleges on your shortlist, you must wait for acceptance letters and financial aid award letters to arrive. In addition to funding provided by the federal government through the FAFSA, you can receive financial aid packages from individual schools.
Step 5: Weigh the Pros and Cons of Each College
After completing the steps above, it's time to sit down with a trusted advisor to weigh the pros and cons of each college and see which one best meets your criteria. For example, the school that offered the most money may allow for the least amount of debt, but what if it doesn't offer a campus culture that aligns with your needs?
College Fairs

A college fair features representatives from different colleges and universities who come together in one location to give students a chance to explore their options and gather information. During a college fair you can meet with admissions officers, ask questions and learn about schools you may not have known about or considered. College fairs are a great opportunity to learn about possibilities and perhaps zero in on the right college for you.
At your college fair, make sure to bring a notebook and pen to take notes. Ask questions and visit as many of the schools' information booths as possible. Spending a day at a college fair can give you in-depth knowledge about many schools in a short period of time and ultimately help you narrow down your college choices.
14 Factors to Consider When Selecting a College or University
Below, you'll find a list of the most common factors that influence prospective students' decisions about whether a school is the right fit for them. As you begin thinking about your college search, we suggest using these factors to guide you.
Type of College
The first part of college planning is understanding your higher education goals. Many college-bound students opt for four-year universities, but others are interested in community colleges or trade schools. After that, you'll want to consider whether you prefer a public or private school. Public universities are state-funded and tend to be larger and more diverse. Private schools vary in size and are generally looking to create a cohesive student body.
Academic Interest
Figuring out what you want to study in college is a process, and most universities have strengths in a variety of areas. Still, it's worth making sure schools have the program you need. Many small colleges don't have engineering or business programs, for example, while technical schools don't always have a range of humanities classes. Even if you don't know exactly what you want to study, it's worth investigating the options at different schools.
Location
The next important factor to consider is: where do you want to be? Given that you have a nation (and world) full of colleges and universities from which to choose, thinking about location is a great way to begin narrowing down your college search. Do you want to be near or far from home? In the north, south, east, or west? Do you want to live in a city or in a more rural area? As you answer these questions, you'll see the best colleges for you come into focus.
Student Body
Similarly, thinking about the size and composition of the student body is also a useful way to narrow your list of colleges. Some high school students want something much bigger than their current school; others prefer the intimacy of a small college campus. Additionally, ask yourself if the student body seems like one where you'd fit in. If you're able to do a campus tour, look around and see what the college's current students look like. You may also want to research the school's demographics as well as its on-campus spaces for diverse student identities.
Campus Life & Culture
Understanding what your college experience would really be like can also help you narrow your list. Talking to current students is a great way to do this, but you can also research online and talk to campus representatives or admissions experts. What do students do for fun? What kinds of extracurricular activities are popular on and off campus? Do a lot of students participate in fraternities and sororities? Do many students go home on the weekends?
Academics & Research
Of course, your social life isn't the only facet of the college experience! Even beyond making sure the colleges on your list have the academic program(s) you want, it's also worth digging into schools' academic culture. Are students competitive or collaborative? Are most classes lectures or discussions, and are they taught by professors or teaching assistants? Sitting in on a class during a campus visit can be a great way to learn about a school's academic culture.
Cost & Financial Aid
In addition to finding the best college for your academic and personal development, it's also important to find the right fit for your financial situation. As you narrow your schools, make sure to investigate their financial aid packages. Some private colleges offer an aid calculator on their websites to help you understand how much of the sticker price you can expect to pay, how much you might need in student loans, and how much might be made up in work study. In addition, be on the lookout for scholarships and other merit aid packages.
Career Preparation
Ideally, college is both a great experience on its own and a springboard for whatever you decide to do next. So, as you consider your college choices, be sure to look at how well schools can help you find and prepare for a career path. Does the school have a robust alumni network? Do current students have interesting internships related to their areas of study? Consider visiting the career center on your campus visit to learn more about what it offers.
Housing & Dining
Another important factor in understanding what your life will be like on campus is room and board. What kinds of housing and dining options exist for students? Do they mainly eat in a dining hall, or do they buy their meals around campus? Are there four years of guaranteed housing, or do students move into off-campus rentals after their sophomore or junior years? Is there any kind of designated first-year or special interest housing? Answers to these questions can make a big impact on what your day-to-day college experience is like.
Resources:
https://www.educationcorner.com/factors-choosing-a-college.html
https://www.bestcolleges.com/blog/how-to-choose-the-right-college/
https://myfuture.com/college/choosing-a-college
https://www.sparkadmissions.com/blog/how-to-choose-a-college-or-university/